From Legacies of Injustice to Healing Actions: The Way Forward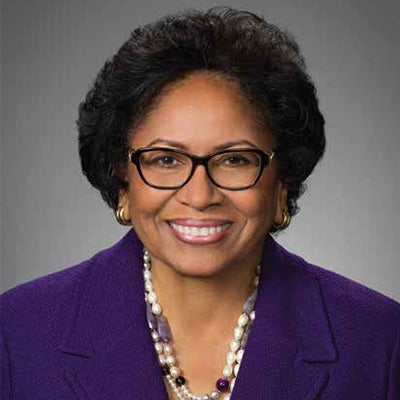 Monday, February 10, 2020
4:30 p.m.
McMurtry Auditorium
Rice University
6100 Main Street, Houston, TX 77005
Ruth J. Simmons serves as President of Prairie View A&M University. She was president of Brown University from 2001-2012. Under her leadership, Brown made significant strides in improving its standing as one of the world's finest research universities. President Simmons also established the University Steering Committee on Slavery and Justice to examine Brown's historical connection to slavery and to make recommendations regarding initiatives in light of that history.
A French professor before entering university administration, President Simmons held an appointment as a professor of comparative literature and Africana studies at Brown. After completing her Ph.D. in romance languages and literatures at Harvard, she served in various faculty and administrative roles at the University of Southern
California, Princeton University and Spelman College before becoming president of Smith College, the largest women's college in the United States. At Smith, she launched a number of important academic initiatives, including an engineering program, the first at an American women's college.
---
Each year, the President's Lecture Series brings to the Rice University campus a variety of stimulating speakers on a range of topics. Rice is pleased to offer the PLS as a means of enhancing the intellectual life not only of the Rice community, but of our neighbors throughout the city of Houston.
The President's Lectures Series is sponsored by the Office of the President and supported by the J. Newton Rayzor Lecture Fund.
Visit the PLS archive to view past lectures.
---
Admission to all lectures is free of charge.
The President's Lecture Series is sponsored by the Office of the President and is supported by the J. Newton Rayzor Lecture Fund.
For more information e-mail ricepls@rice.edu.
---
Rice University's President's Lecture Series (PLS) was created to enrich the intellectual life of the Houston community by bringing to the Rice campus "celebrities of substance," speakers of both high intellectual distinction and broad public appeal.
The President's Lecture Series Committee welcomes nominations for possible future speakers using the Speaker Nomination Form. While we still aim to present lectures that represent those varied fields and experiences we have historically presented (MLK Lecture, DeMenil Lecture, Science, and General), we also seek exemplars in the fields of "letters, science and art;" winners of Oscar, Emmy and Grammy awards and the Nobel, Pulitzer and other major prizes; alumni achievers and other leaders; those at the vanguard of public service and social justice; entrepreneurs and engineers, authors and architects, actors and astronauts--if you have a suggestion, please share it. Individuals with personal connections to proposed speakers are especially encouraged to submit nominations.