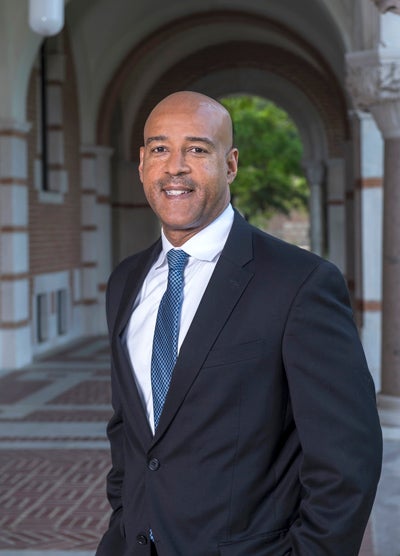 Reginald DesRoches is Rice University's eighth president. He also serves as a professor of civil and environmental engineering, and professor of mechanical engineering. As president, DesRoches is the chief executive officer of the university and its 8,200 plus students, eight schools and more than 900 faculty. He previously served as Rice's Howard Hughes Provost and William and Stephanie Sick Dean of Engineering.
DesRoches' top priorities are to enable Rice to reach a new level of distinction nationally and internationally for impactful research, award-winning scholarship and insightful creative work. He also wants to build graduate programs that are of the same distinction as Rice's top rated undergraduate programs while maintaining Rice's commitment to diversity, equity, and inclusion.
During his tenure as provost, DesRoches led the university's academic, research, scholarly and creative activities through the challenges posed by the COVID-19 pandemic, including the sudden suspension of classroom instruction and Rice's successful conversion to remote learning. In addition, he dramatically increased the university's research awards, launched several new centers and institutes, and forged new partnerships and programs with institutions and organizations in the Houston area, including the Texas Medical Center.
Under his leadership, several new majors and professional master's programs were launched, including a new undergraduate business major. Several new online programs were created during his time as provost as well, including the online degrees in the Jones Graduate School of Business and several online master's degrees in the School of Engineering. During his time as provost, DesRoches made diversity, equity and inclusion a priority, establishing the Office of Diversity, Equity and Inclusion, which has been instrumental in dramatically increasing the diversity of Rice's faculty and graduate student population. He also began leading the first major expansion of the undergraduate body in over a decade.
DesRoches' tenure at Rice began in 2017, when he accepted the post as the William and Stephanie Sick Dean of Engineering at the George R. Brown School of Engineering. As the leader of Rice's engineering school, he was in charge of nine departments, 137 faculty and 2,500 students. During his time as dean, the school dramatically increased in size and stature. It also saw a significant growth in research programs. Several key interdisciplinary initiatives were launched during DesRoches' time as dean, some of which were neuroengineering, synthetic biology and data science.
Before his appointment at Rice, DesRoches served as chair of the School of Civil and Environmental Engineering at Georgia Tech in Atlanta. As chair, he led a major renovation of the school's main research and teaching home, and he spearheaded a major fundraising effort for the school that doubled the number of endowed chairs and professors. During his tenure as chair, the school dramatically moved up in the U.S News & World Report graduate rankings, achieving a ranking of No. 2 in the nation — the highest in the history of the school.
DesRoches' primary research interests are in the design of resilient infrastructure systems under extreme loads and the application of smart materials. A fellow of the American Society of Civil Engineers (ASCE) and the society's Structural Engineering Institute (SEI), DesRoches served as the key technical leader in the United States' response to the 2010 Haiti earthquake, taking a team of 28 engineers, architects, city planners and social scientists to study the impact of the earthquake. He also has participated in numerous congressional briefings to underscore the critical role that university research must play in addressing the country's failing infrastructure and enhancing the nation's resilience to natural hazards.
A member of the National Academy of Engineering and the American Academy of Arts and Sciences, DesRoches' distinctive research record has been recognized for its impact and innovation. He received the Distinguished Arnold Kerr Lecturer Award in 2019, the John A. Blume Distinguished Lecturer Award in 2018, and the 2018 Earthquake Engineering Research Institute Distinguished Lecturer Award, one of the highest honors in the field of earthquake engineering. He also is a recipient of the 2015 ASCE Charles Martin Duke Lifeline Earthquake Engineering award, the 2007 ASCE Walter L. Huber Civil Engineering Research Prize, and the Georgia Tech ANAK Award, which is the highest honor the Georgia Tech student body can bestow on a faculty member. DesRoches is a member of the Academy of Distinguished Alumni in Civil Engineering at Berkeley and was recently named an honorary alumnus of Georgia Tech.
In 2014, DesRoches became Georgia Tech's Faculty Athletics Representative, serving as the liaison between the university and its athletics department. He worked closely with the athletic director and university leadership — including the president, provost and senior vice provost for academic affairs — to formulate policies affecting intercollegiate athletics on campus. His responsibilities also included representing the institute to the Atlantic Coast Conference (ACC) and the National Collegiate Athletic Association. During the 2016-2017 school year, he was appointed to the ACC leadership team as vice president of the conference.
DesRoches was born in Port-au-Prince, Haiti, and grew up in Queens, New York. He earned his Bachelor of Science in Mechanical Engineering, a Master of Science in Civil Engineering and a Doctorate in Structural Engineering at the University of California, Berkeley.
DesRoches is married to Paula DesRoches, a highly accomplished healthcare professional, nurse practitioner and administrator recognized for her leadership in occupational health. The couple has three children, Andrew, Jacob and Shelby, who graduated from Rice.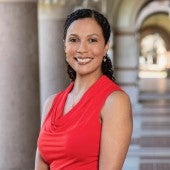 Paula Gilmer DesRoches
Paula Gilmer DesRoches — the wife of Rice University President Reginald DesRoches, and Rice University associate — is a highly accomplished healthcare professional, nurse practitioner and administrator recognized for her leadership in occupational health.