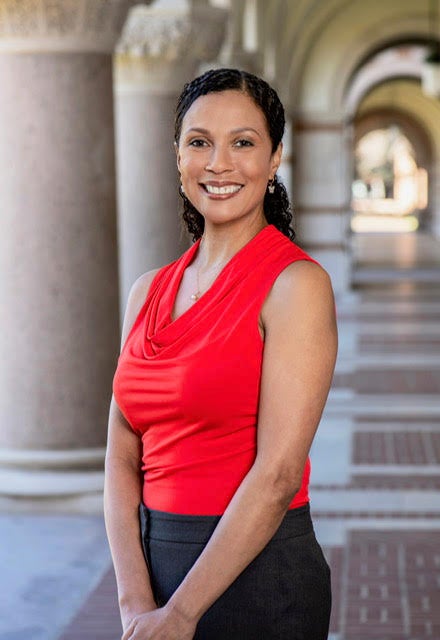 Paula Gilmer DesRoches, the wife of Rice University President Reginald DesRoches, and Rice University associate, is a highly accomplished healthcare professional, nurse practitioner and administrator recognized for her leadership in occupational health.
DesRoches began her career in the field 25 years ago. She spent the past 16 years in leadership positions, the most recent of which was as Director of Employee Health and Occupational Medicine for Houston Methodist, the city's leading hospital system. DesRoches was with Methodist from 2017 to 2022. Prior to that, she served 12 years as Corporate Director of Occupational Injury Management at Emory Healthcare in Atlanta. In these leadership roles, DesRoches provided operational oversight, and clinical consultation to her team and direct care to patients. DesRoches is also a board-certified advanced practice provider and adult nurse practitioner.
While at Emory Healthcare, DesRoches provided operational, clinical and case management oversight of Emory Healthcare and Emory University's Occupational Health Program, which included 40,000 employees and six clinics. Of note, she and her team directed the care of staff serving Emory's Ebola patients in its Serious Communicable Diseases Unit (SCDU) in 2014. Such care included the development and management of the medical surveillance process and the provision of care to providers potentially exposed to Ebola.
DesRoches is currently a healthcare consultant in occupational health for Houston Methodist. She previously served as the health system's director of employee health and occupational medicine. In that role, she directed the administrative and clinical management of the hospital system's seven employee health clinics. These clinics are located throughout Greater Houston and serve over 27,000 employees. DesRoches also directed the occupational health response to COVID-19, including the employee COVID-19 vaccination program, case management of COVID-19 positive employees and the hospital system's employee contact tracing efforts. In addition, she oversaw numerous occupational health surveillance, workplace injury/illness management, fitness for duty and urgent care programs for Houston Methodist employees.
A native of Los Angeles, DesRoches earned her Bachelor of Arts in Sociology from the University of California, Berkeley. She received a Master of Science in Nursing and her Adult Nurse Practitioner certification with specialization in Occupational Health from the University of California, San Francisco.
She currently serves on the board of the United Way of Greater Houston, and the Hermann Park Conservancy.
DesRoches is a runner and exercise enthusiast. She enjoys a rich family life with her husband and their three children, Andrew, Jacob and Shelby. The couple met at UC Berkeley as undergraduate students.