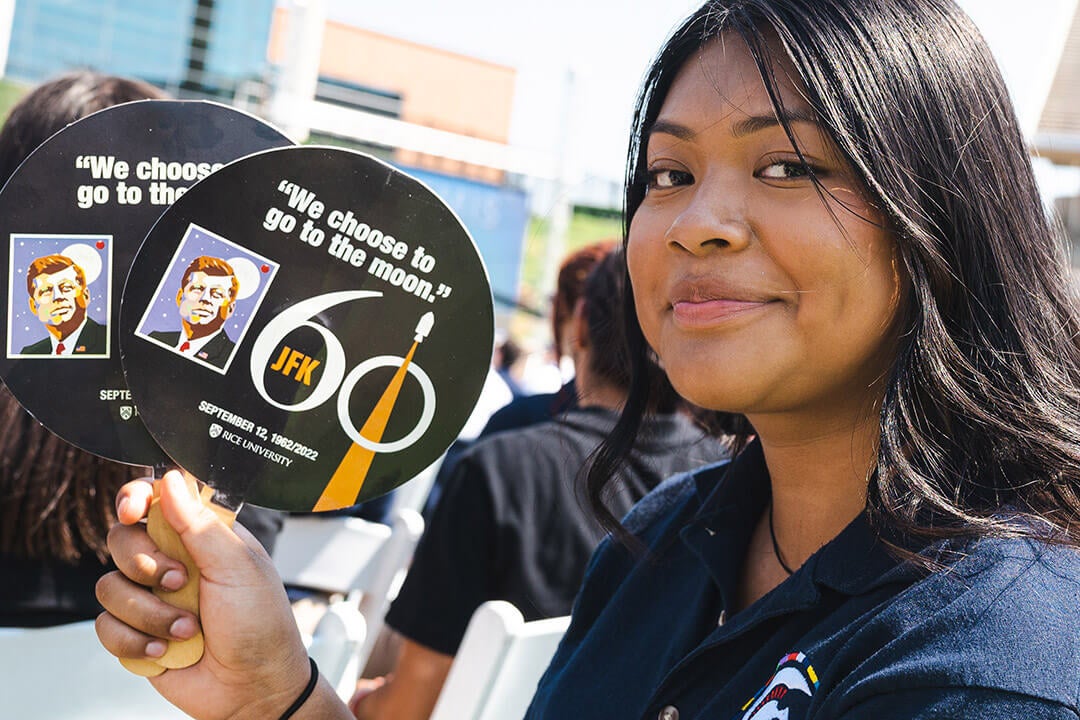 Good morning! I'm Reginald DesRoches, president of Rice University.
Before I begin, I want to thank you all for being here. I know it's hot and humid. It's mid-September in Houston, after all. In the audience we have astronauts, elected officials, Rice board of trustees, Rice faculty, staff, students and alumni, and leadership from NASA and the Johnson Space Center. I want to extend a special welcome to the thousands of students here today from the Houston Independent School District. And, again, I want to acknowledge all the Rice alumni here today who were here in Rice Stadium 60 years ago. It's amazing that so many of you could make it. We're glad you're here.
We gather here in Rice Stadium to celebrate a challenge and renew a commitment.
Let us remember that throughout almost all of human history, people looked into the night sky and beheld the moon as a distant wonder, something eternally out of reach. Flying to the moon was a metaphor for the impossible.
But here in this stadium 60 years ago today, President John F. Kennedy boldly proclaimed that his generation would choose to make what seemed impossible a reality.
One of Rice's alumni, Bill Broyles – who sat in the stadium on that day – would later put it succinctly when he wrote the screenplay for the movie "Apollo 13:" "It's not a miracle. We just decided to go."
With seven words – "We choose to go to the moon" – President Kennedy changed the course of human history and cemented Rice University's place in the lore of America's space program.

Kennedy had established the goal of landing astronauts on the moon more than a year earlier in a joint session of Congress, but it was the challenge he issued at Rice that put the space race into overdrive.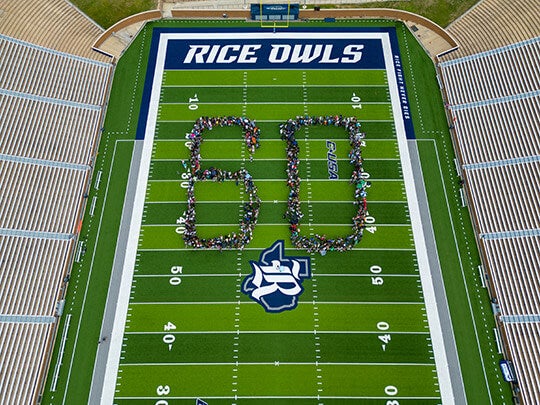 Within months of Kennedy's speech, Rice provided NASA the land for the Johnson Space Center and became one of the nation's first universities to establish a Department of Space Science. Within 18 months, satellites built at Rice were being launched into orbit atop American rockets. By the time Apollo 11 landed, several dozen graduate students and countless undergraduates had helped build instruments that made historic breakthroughs and remain on the surface of the moon today.

Over the following six decades, the ties that formed between NASA and Rice in the early 1960s have continued to grow and support our nation's exploration goals and advancement of human and robotic spaceflight.

Rice researchers played a key role in building the Hubble Space Telescope. Rice faculty were co-investigators on numerous robotic explorations of the Sun and planets, and they have a supporting role in NASA's current mission to the moon — Artemis.

Rice's proud heritage of collaborating with NASA since the space agency's founding is evident all over our beautiful campus. Outside this very stadium there is a "Moon Tree" donated to Rice by Rosemary Roosa, who's in the stadium with us today. She's the daughter of Apollo 14 astronaut, Stuart Roosa.
Rice is privileged to be a partner in pursuits related to space exploration and to be part of a historic collaboration with NASA that supports some of the world's most important research and educational outreach. Simply put, we are partners in the pursuit of knowledge.

Such knowledge, in the words of John F. Kennedy, "must be won and used for the progress of all people."
Now a new generation chooses to go to the moon. And once again, Rice proudly takes wing with NASA – and a nation destined for the stars.
And now, I invite Johnson Space Center Director Vanessa Wyche to the podium.