Members of the Class of 2026 — On behalf of the deans, magisters, faculty, administrative leadership, staff and all members of the university community, welcome to Rice! And to our new students who are transfer students, we extend an especially warm welcome.
I'm Reginald DesRoches, president of Rice University. I'm extremely grateful to be here with you this evening and to welcome you to Rice. This is my first time speaking in this capacity as president. I stepped into my new role just a little over a month ago after serving about two years as provost and three years as dean of the George R. Brown School of Engineering.
What I've learned over the past five years at Rice, is that in addition to being an outstanding research university with a distinctive commitment to graduate and undergraduate education, the university is home to a special community and inclusive culture dedicated to diversity, equity and inclusion. The level of support students get here is unique and is one of the university's greatest strengths.
Matriculation is a perfect example of the individual attention you will get at Rice. Walking through the Sally Port signifies much more than beginning your studies, it represents becoming part of a larger community — the Rice community.
When my daughter, Shelby, matriculated, three years ago, she said it was one of the most memorable and meaningful experiences of her life. She said it set the right tone for her coming years as a student, and member of the Rice soccer team, and a member of Sid Richardson College.
Her experience was much different than when I started undergraduate school at the University of California, Berkeley more than three decades ago. No one marked the occasion but my parents, who drove me to the airport and told me to find a phone both to call them when I made it safely.
My first class at Berkeley, CHEM 1, had 1,200 students, in a huge auditorium. I was indeed very intimidated. I think your experience at Rice will be a bit different.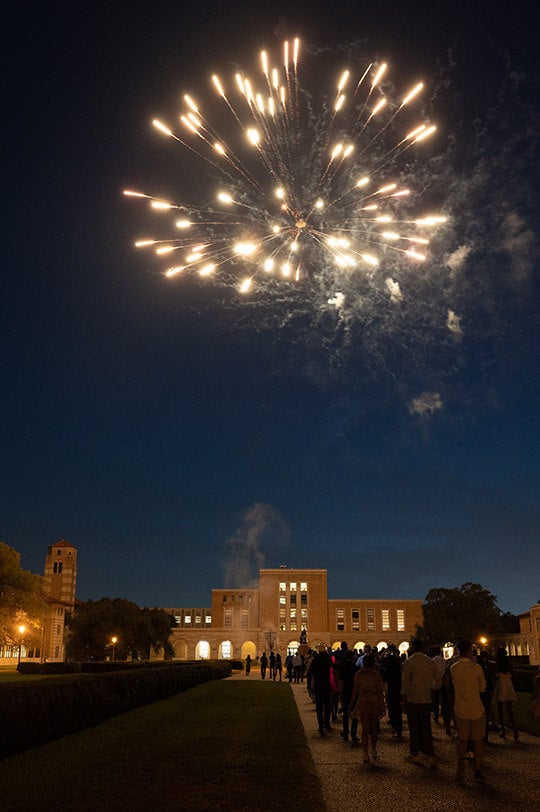 What we want you to know here at Rice is that like every other class that has entered the university since 1912, you are special. The class of 2026 is 1,210 new Owls strong and represents 8% of all 31,442 applicants admitted to the university — the most selective class in Rice's history.
Ten percent of your class are the first ever students to enter Rice with a desire to pursue an undergraduate business major — a new offering at Rice. These students join others who aspire to pursue academic studies in Architecture, Engineering, Humanities, Music, Natural Sciences and the Social Sciences. Many of you will double or even triple majors.
I am always amazed at the stories associated behind each of you.
Your class has no single ethnic or racial majority — 32% of you are from underrepresented minority groups and another 14% are international students, representing 55 nationalities, making the class of 2026 the most internationally diverse ever at Rice.
While we are proud to have a community that is reflective of the diversity of Houston, the most diverse City in the Country, we are equally proud of the environment of inclusion that we have created at Rice. Our differences are not just tolerated, they are celebrated as a strength of our institution.
Being part of such a diverse class will benefit you for decades to come. What you learn from each other is just as valuable as the academic education you receive from our prestigious faculty. Cherish these lessons. Soak in every experience, especially if it's different from your own. You will grow in ways you never imagined.
You arrive during a time in history that is both challenging and inspiring. The nation and the world are in many ways the most sophisticated they have ever been. Technology, innovation and scientific discovery are progressing at breakneck speed to meet the many existing and emerging challenges we face today. Scholarship and creative pursuits remain the societal framework on which ongoing solutions are refined and ultimately integrated. The work being done by in all fields from the humanities to the sciences from music to architecture have become more inter-disciplinary than ever before. Solving the world's most pressing problems requires that we work across a range of fields at the university.
Some of the problems facing us today — and that you and your generation are tasked with solving — include global warming and sustainability, medicine and health challenges, social inequities, the functioning of democracies, the sustainability of free speech and the legacies of racism. As a student at Rice, you will have the opportunity to work closely with our faculty in addressing some of the most pressing global problems. I know somewhere in this room, one or more of you will be part of creating disruptive technologies that will change the world.
Rice is place where you can truly grow, even transform. Nestled in a 300-acre, tree-lined campus in the midst of one of the nation's largest and most diverse cities, Rice seizes its mission to pursue path-breaking research and scholarship and create collaborations that contribute to the betterment of our world.
Across Houston's Main Street sits the world's largest medical center. A short walk away – Houston's renowned Museum District. And a short ride away by commuter rail – Rice's new Ion Innovation District. Less than an hour away, is Johnson Space Center, which has served as a hub for human spaceflight for more than half a century.
Rice consistently ranks among the nation's top 20 universities – with highly respected schools of Architecture, Business, Continuing Studies, Engineering, Humanities, Music, Natural Sciences and Social Sciences.
Every year, Rice is the academic home to about 4,400 undergraduates and more than 3,000 graduate students. Within five years, the total enrollment will expand to about 9,000. The student-to-faculty ratio will remain around 6-to-1.
Rice's residential college system helps students build close connections and lifelong friendships. Developing diverse college communities is one of the reasons Princeton Review ranks Rice top in the nation for interaction between races and classes and top in the nation for the quality of life of students.
Central to who we are as a university is supporting each other, and we do that through our values. Becoming a member of the Rice community means, first and foremost, participating in and supporting the values of Rice. Our values are reflected in the letters in RICE, which makes it easier for you and me to remember them.
R - Responsibility – Take responsibility. Take responsibility for making things better, including Rice, for making a contribution, and creating opportunities for yourself and others.
I - Integrity – Everything we do here, from academics to athletics, from how we treat each other to our contributions to the community around us, is done with the guiding principle of what is right, of what is honorable.
C - Community – Community is the way we support and treat each other with respect.
And E - Excellence – Excellence is what we strive for in everything we do at Rice. It's what pushes us beyond our conceived limitations and it's what allows us to accomplish things we never imagined possible.
The RICE values are one of the reasons that we were so effective in managing the pandemic, balancing the health and safety of members of our community, while continuing to deliver on our educational mission.
The virus poses a very different challenge today than it did during the earlier phases of the pandemic more than two years ago. We now have effective vaccines, booster shots and pharmaceutical treatments to combat the effects of COVID-19, and we have a better understanding of how we can protect ourselves with simple precautions like wearing good quality masks in certain public settings. However, the most effective tool we have to manage the COVID and future pandemics is the responsibility that each of you will take to for your own health as well as those around you.
While you are here, I encourage you to experience a little bit of everything at Rice, no matter your aspirations, beliefs, likes, dislikes. There is something for everyone at Rice, and everything at the university is a chance to grow and learn. If you are an engineering student, take a class in the music school, or learn about philosophy. If you are an English major, take a class in statistics or chemistry.
Join one of the hundreds of student clubs that we have on campus. These clubs allow you to explore your passion and further develop your leadership skills.
There are nearly 400 student athletes that participate in one of 17 division I sports at Rice. They need your support.
I also encourage you to enjoy our wonderful city of Houston. Visit one of our many museums, or catch a play, or go see one of the many great sports.
We have worked hard in recent years to expand study abroad opportunities for our students. I encourage you to consider spending a few weeks or as much as a semester abroad.
Another thing I encourage you to do is to believe in yourself. Believe that you can accomplish your goals. Believe that you can expand your way of thinking. Believe that you can change the world.
I leave you tonight with a quote from JFK, who on Sept. 12 60 years ago while standing in Rice Stadium, told the world that Americans were going to the moon, a feat no one thought possible. Rice and Johnson Space Center will commemorate the anniversary on Sept. 12 in Rice stadium. You all are invited to attend.
Now, for JFK's quote: "Be strong and of good courage; be not afraid, neither be thou dismayed."
The sentiment of this quote represents the mindset you should have throughout your time here at Rice. When you are met with challenges, do not be dismayed. Move forward with strength and courage. And, never, be afraid because you are not alone. At Rice, you are a part of a family that is invested in you and your future.
Welcome class of 2026 and Good Luck!!