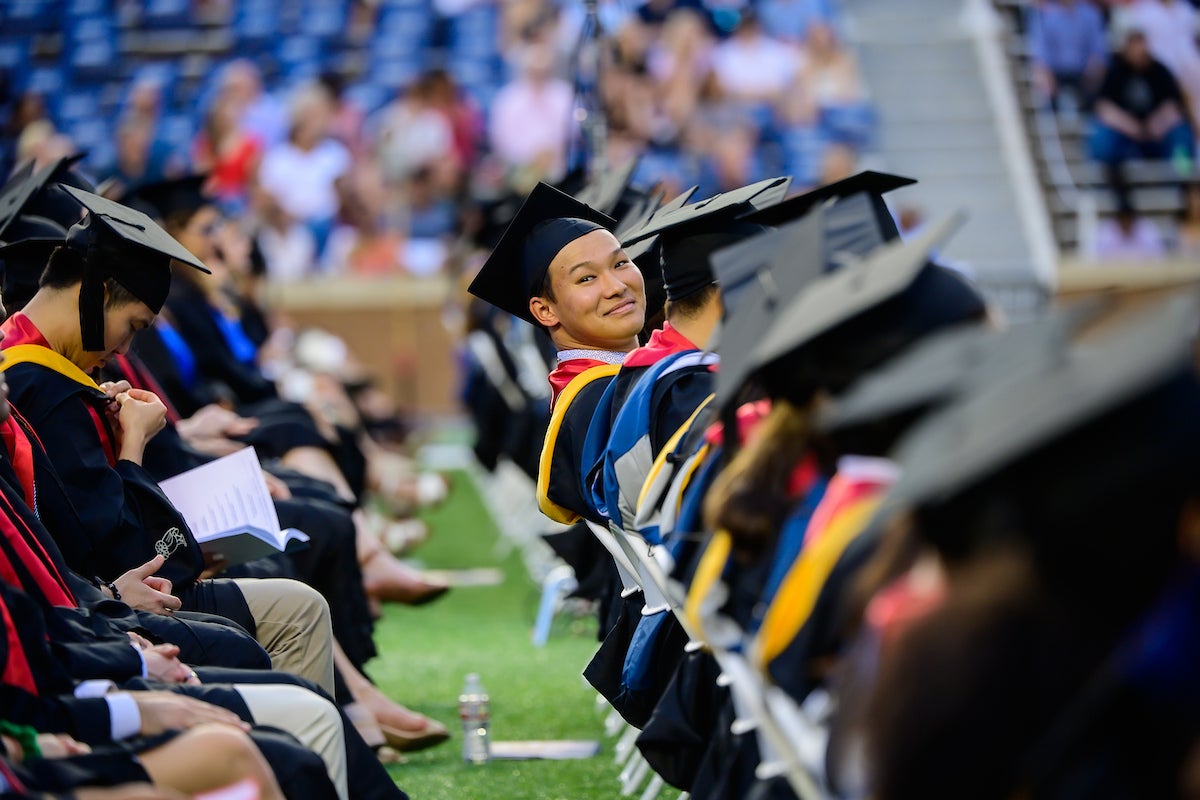 Welcome to Rice University's 110th Commencement.
I am Reginald DesRoches, president of Rice University. Many of you in cap and gown know me as Reggie.

When we made the decision to combine the commencement and graduation ceremonies into one this year, a consequence was shortening the president's remarks, which, I know, makes you very disappointed. So, let me get started.

My connection to the Class of 2023

Commencement is a time when the university joins together in celebration with the families and friends of our graduates.

We welcome you to our campus, and we thank you for lending us these outstanding graduates, who have contributed so richly to our community.

I am connected to this Class of 2023 for numerous reasons:

1. You are my very first graduating class. As you were arriving on campus, I, too, was new to Rice, as a fairly new dean of the School of Engineering before I became provost, and now president. We've grown together. I have had the opportunity to engage with and meet many of you through various senior events this year, including the senior holiday party. When you have 400 graduating seniors in your home, you can't help but become close (literally and figuratively).
2. We also have a shared COVID experience. I was just starting as provost when the pandemic struck. It occupied a core part of our years at Rice. Together, we persevered and came out of the pandemic stronger and more resilient as individuals and as a university.
3. And, of course, it is a special class, because how often does a first-year president get to hand out a degree to his baby girl? We are so proud of you, Shelby.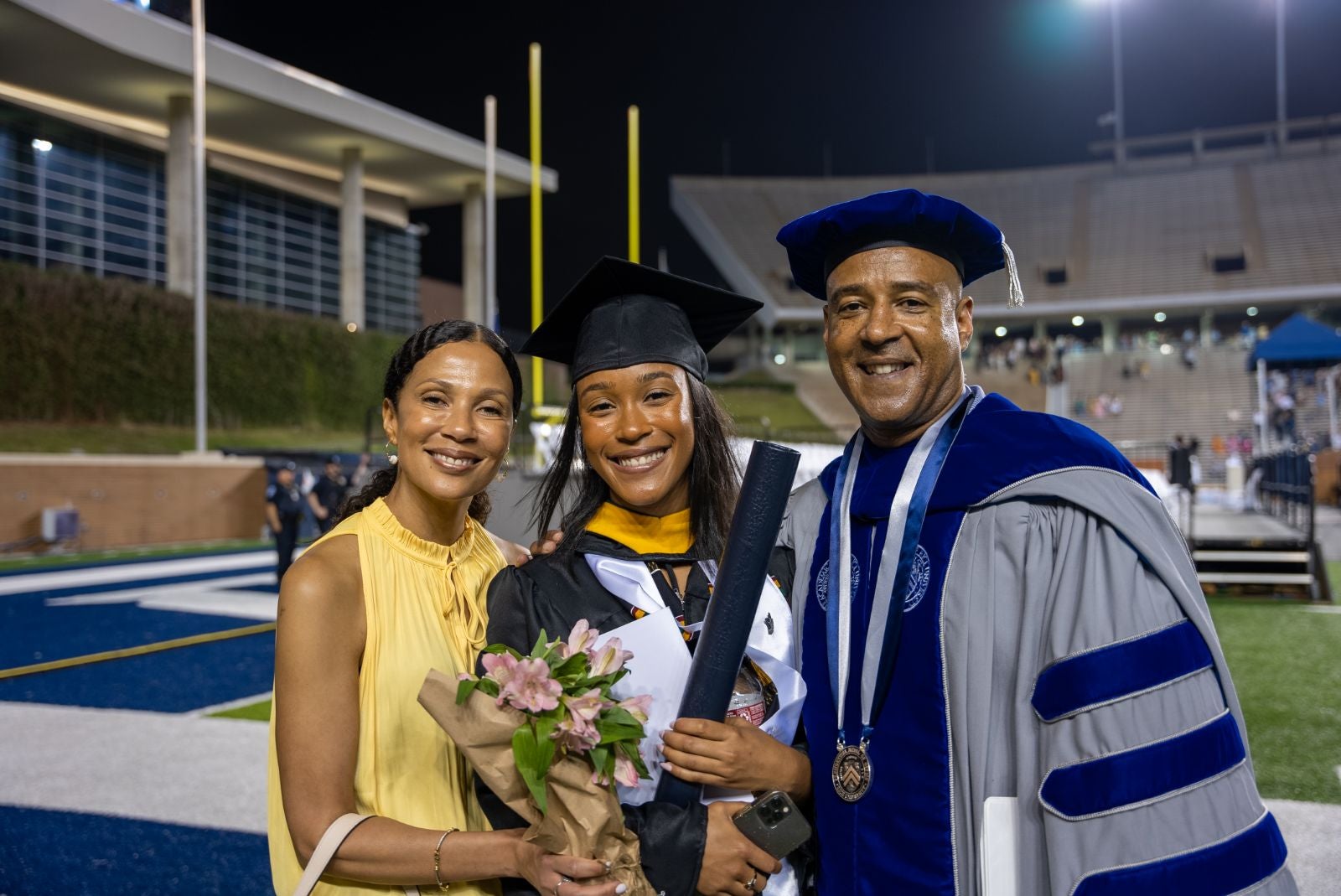 Giving thanks

Graduates, during your time at Rice, our faculty and our staff have dedicated themselves to nurturing that potential in each of you, and I want to take this moment to thank them for their ongoing support and encouragement.

Your accomplishments are also due, in part, to the dedication, to the loving encouragement, and to the extraordinary support of your family members and friends who have championed each of you. Many of them are here today.
To thank them for their support, I would like for all of our graduating students to rise (if you are able) and acknowledge what others have done for you.
Power to transform

As I mentioned earlier, the Class of 2023 is especially unique. Having pursued your Rice degree during a pandemic that shook the way we and the world operated, you undoubtedly were robbed of precious moments to engage with others on campus.
Yet, here you stand today, more resilient than ever and ready to face life with firsthand knowledge that challenges are meant to be hurdled.

Your Rice degree (and yes, the rigor of your Rice degree), and the many experiences that accompanied it from outside the classroom, have positioned you to transform lives. These experiences range from participating in athletics and engaging in one of our 200-plus clubs, to working in a lab and volunteering in our great city of Houston.
Because of these experiences, you are adaptable, resilient, empathetic team players — with superpowers to change the world!

With these superpowers comes responsibility, because in addition to what this degree means to you, know that you have the power to transform lives and the world around you. Whether you become involved in life-saving research, new business and entrepreneurial endeavors, educational and civic initiatives or thought-provoking arts projects, trust me when I say you will change the world, just like the Rice alums who came before you.

I challenge you to continue to push yourself. Try new things. Get outside of your comfort zone. Do things that are exceptionally hard and perhaps uncomfortable. This is when you will grow intellectually and emotionally.

Many of you have expressed mixed emotions about graduating, calling it bittersweet. You've talked about how much you will miss Rice, and the excitement and nervousness of what awaits you beyond the hedges. My hope is that in exploring new avenues outside these hedges, you will remember you are never alone. Our more than 60,000 living alumni around the world are now a part of your extended family. Like you, they share immense pride in Rice and the accomplishments of all its graduates — you now included.

We have taught, mentored, inspired and even cajoled you to the best of our abilities and are ready to let you go. As you encounter life's adventures — even with a Rice degree in hand — you will be faced with highs and lows and unexpected twists of fate.
So whatever path life takes you on, remember the values that we hold near and dear to us at Rice and that I spoke about at my inauguration just a few months ago. Be curious (never stop learning). Be courageous (stand up for what you believe). And be respectful of others.
The culture of care we so preciously cherish here is something I hope you will carry with you as you go out into the world. If you do so, the power to transform the world around you will be apparent, meaningful and true.
Closing
In closing, all of us at Rice are thrilled to be a part of your celebration. We applaud your persistence, your incredible talent, your achievements and your aspirations. I know that I speak for my fellow faculty and staff that you inspire us.

We send our best wishes as you embark upon what lies ahead, and we hope it will bring you back to this campus many times (and not just for Beer Bike). We look forward to welcoming you when you return, and we say, to the great Class of 2023, congratulations!